This past week I had the privilege of presenting at and attending RailsConf 2022 Conference in Portland, OR. My presentation was titled Puny to Powerful PostgreSQL Rails Apps. This post will focus mainly on my presentation experience.
Had a ton of fun presenting #PgPunyPowerful at #RailsConf2022. Let's chat about #PostgreSQL scaling challenges and solution techniques. Slides are here: https://t.co/bhs95BdxMm Additional resources page: https://t.co/QkthZBEpq4 🙌

— Andrew Atkinson (he/him) (@andatki) May 18, 2022
This talk covered 5 challenging areas scaling Rails applications on PostgreSQL databases.
I made a page with extra resources and exercises for the presentation called PG Puny Powerful. I also added some more answers to questions asked during the Q&A after the live presentation.
Here is a view from the presenter perspective at the Oregon Convention Center! My Fountain teammates at the conference sat in front to support me, which was very thoughtful and encouraging!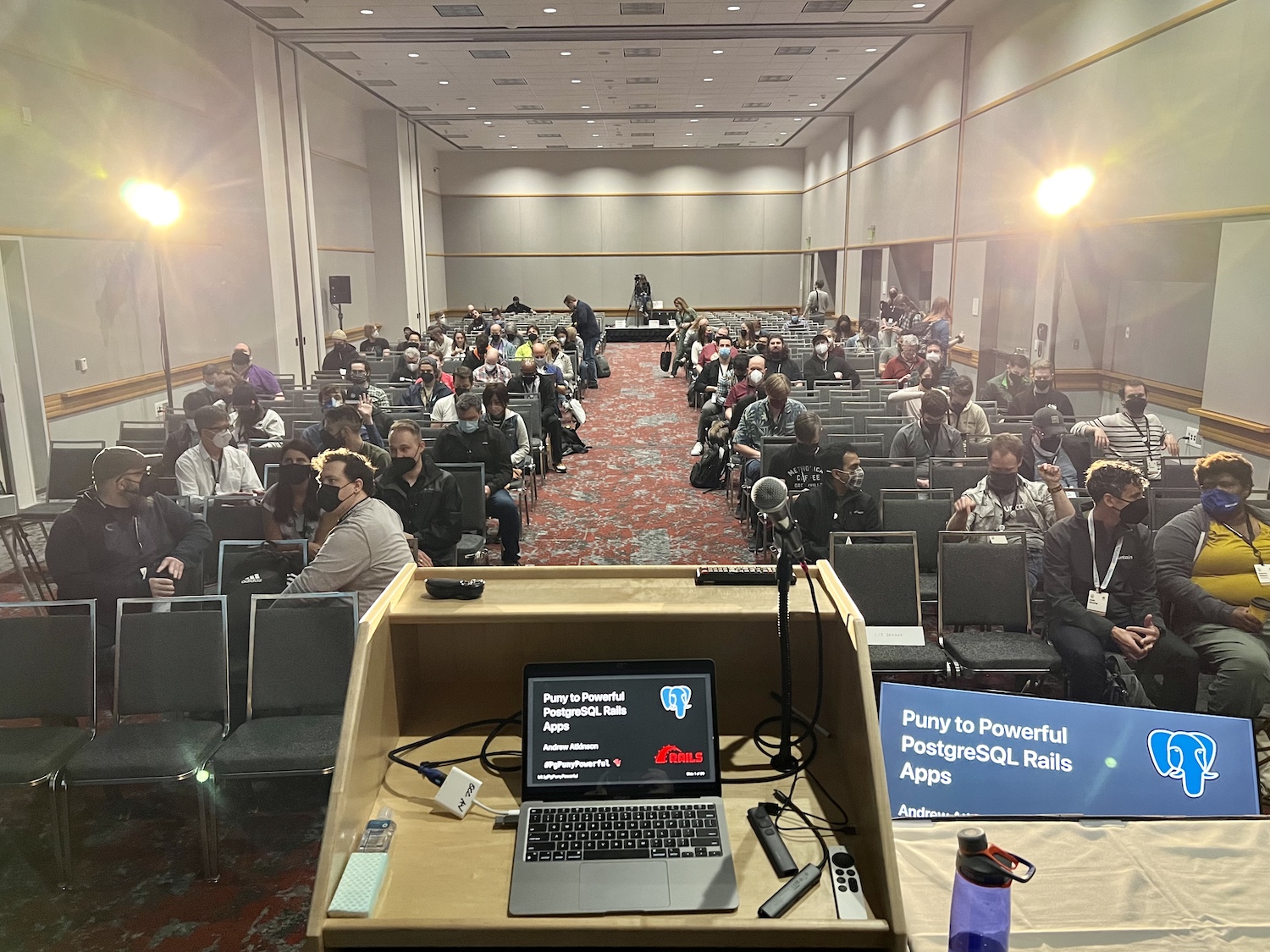 Presenting at RailsConf Oregon Convention Center 2022
Volunteering Opportunity
I joined volunteers at the Portland Diaper Bank (@pdx_diaper_bank) to help pack diapers!
Thanks in particular to Sean and the Ruby for Good organization for creating the volunteer opportunity.
I was able to use my specialized skills in Size 4 diapers, having handled thousands of them before! :)
A huge thank-you to all the awesome volunteers who came out to @PDX_Diaper_Bank and wrapped over 4,600 diapers for 184 kids today! 🤩Each one of you made the world a little bit gooder! 💖 #RailsConf2022 #socialimpact pic.twitter.com/7zbfrnmAgb

— Ruby for Good (@RubyforGood) May 17, 2022
Presentation Experience
Overall I thought the presentation went well. I had done a lot of practice rehearsals so I felt confident in the delivery of the material and had done some editing and culling to fit it into 30 minutes.
PostgreSQL scaling topics are things I love to discuss so I hope my enthusiasm came through and I hope to help others on their learning journey to pay it forward.
I asked some folks in the PostgreSQL and Rails communities for help and they offered me their support either by listening to a practice run and providing feedback, or reviewing earlier drafts of the slides.
Could not have developed #PgPunyPowerful without help from these fine folks: @be_haki, @jmcharnes, @ryanbooz, @davidrowley_pg, @andrewkane, @andygauge, @dwfrank, @lukasfittl, @kevin_j_m, @crash_tech Thank you #pgfriends and #rubyfriends! #RailsConf2022

— Andrew Atkinson (he/him) (@andatki) May 18, 2022
Community Feedback
I created a hashtag #PgPunyPowerful which I used for a few purposes:
Tried to build some hype in advance
Welcomed feedback via twitter
Tweeted links to the presentation and additional materials
It sort of worked! It was an experiment to create more engagement and continue the conversation.
Highlighted Feedback
Some folks tweeted out support for the presentation, which I really appreciated!
#pgpunypowerful @andatki 's talk was 30 minutes of what took me 3 years to learn at Stitch Fix about Postgres.

— David Copeland (@davetron5000) May 18, 2022
A lot of great #Rails Postgres information in today's #RailsConf2022 Puny to Powerful PostgresSQL Rails Apps presentation. #PgPunyPowerful

— Keith Wedinger 🇺🇦 (@jkwuc89) May 18, 2022
Elizabeth G.C. even said that my talk was her favorite of the week! What a nice thing to say!
It was fun! Your talk was my favorite fo the week.

— Elizabeth Garrett Christensen (@e_g_christensen) May 20, 2022
Talks Attended
Some of talks I attended in no particular order, a mix of technical and less technical. Many more I wish to catch the recordings of later.
Slides
The slides are below:
If you'd like to see another PostgreSQL presentation I gave last year, please check out PGConf NYC 2021 Conference.
Video Recording of the Presentation
As of July 2022: the recording of the presentation is now live. Please keep in mind the supplemental page: PG Puny Powerful and please contact me via this site or on twitter if you'd like to discuss a particular topic further. I appreciate any feedback!